Sure, a little black dress is always a good choice for the party scene, but who says festive dressing has to be so cut and dry? Here are some basic ideas for switching your usual party attire up for this Christmas season.
1. Silver Rush
The default fashion choice for the holidays is always something shiny, there's no doubt about it. Whilst the over-the-top pieces can seem like a fun route to take. There are people who have wanted something more low-key and less glittery. This is where the metallic dresses come in.
Metallic dresses can act as the ultimate neutral on the festive party circuit.
We have linked below this gorgeous "Positano Dress" in silver as we think this dress would be perfect for those of you going to more of a sophisticated Christmas celebration.
Shop here: http://ow.ly/M3Oa30mfGxq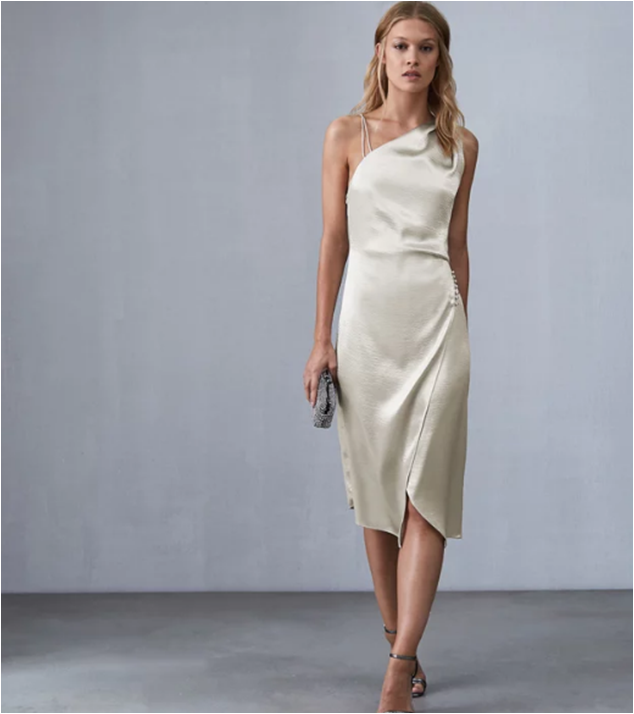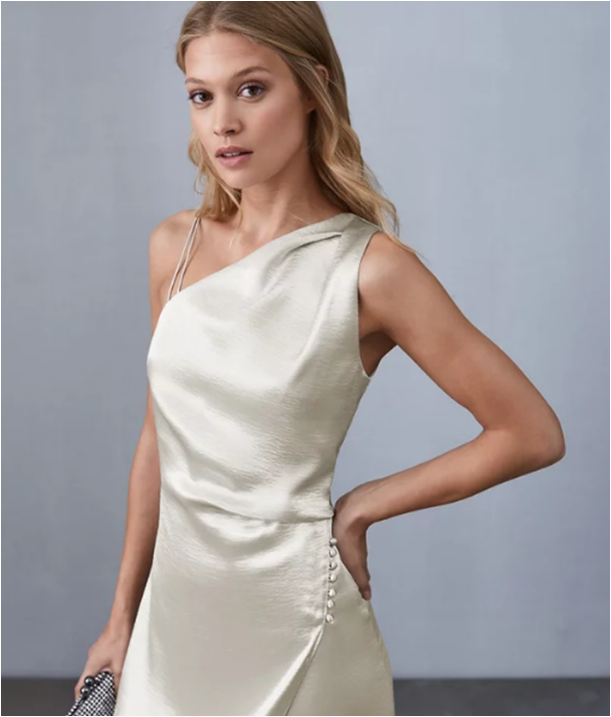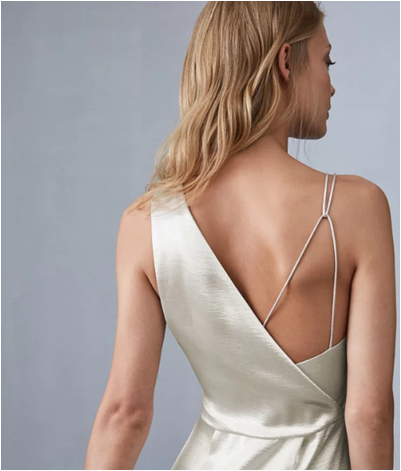 Something to pair it with
Nina Bracelet and Earrings
The main detailing on this dress focuses on the body, with your arms left free. Wearing a dress like this gives you the perfect opportunity to jazz up your look with a gorgeous bracelet.
KASHKA London Nina bracelets  and earrings are named after Truman Capote's mother and reminds us of Holly Golightly Breakfast at Tiffany's. Dainty elegance. We think that the fresh water pearls set into the silver chain match the tone of this dress perfectly and would be a gorgeous addition to the look. Shop the set now before they are gone! Limited stock.
2. 'Tis The Sequin
If you haven't had the chance to sparkle this season, the time has come to shine. Because, if nothing has yet called for you to follow this year's most glitzy of trends – then the sequin trend over the Christmas period is calling your name!
If you're looking to go top-to-(almost) toe in sequins, your obvious choice is a sequin dress, and one in the colour of Christmas. The luscious deep green makes a perfect choice, however it can be purchased in a variety of different colours. The ¾ length sleeves of this House of Fraser dress add elegance and sophistication, whilst the mini length gives it a touch of darling.
Shop here: http://ow.ly/kNrq30mfI1V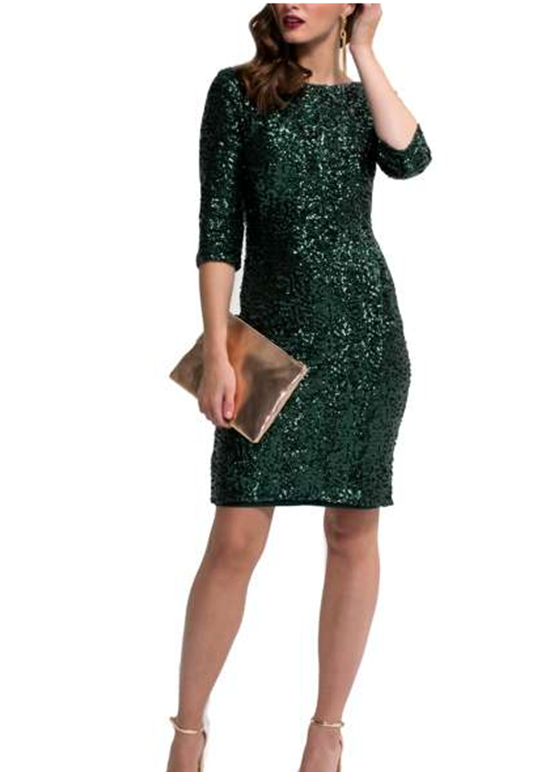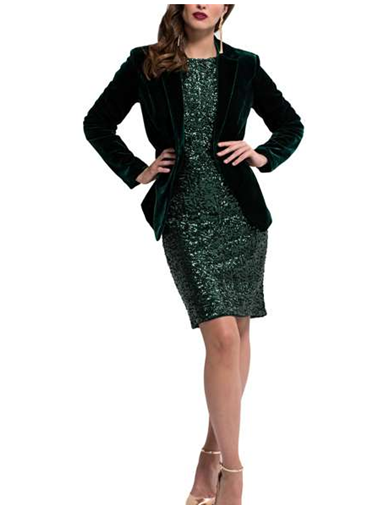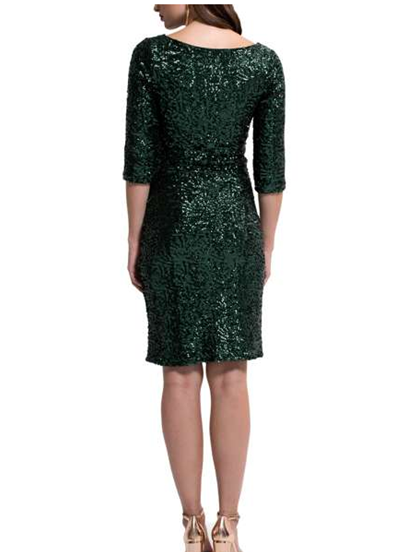 Something to pair it with
AURA Bar Earrings and Necklace
Created for the everyday golden moments, the Aura 9 karat solid gold essentials are crafted to fit like a second skin. You can stack them up or wear them delicately on their own, express your style with a touch of luxury everyday.
KASHKA London AURA Bar jewellery set are the essential gold jewellery you all asked for.
New in and very much loved, the rounded bar is crafted in 9 carat solid gold. Available in Rose Gold as well, these dainty pieces of jewellery are the perfect match for a dress like this!
3. Winter Floral
Take fall and winter's floral trend into the festive season with a midi dress that's timeless and festive in its own right.
When you wear a floral dress during the summer, you are mirroring the world around you; when you wear one in the winter, you challenge it a little. You are able to create your own aesthetic. However, if you are someone who doesn't like too much attention on you, this dress is also perfect because the colouring falls right under the Christmas palette. Incorporating the emerald green and white flowers gives it more of a festive vibe.
This chiffon dress is lined to the knee and ties at the waist to make it look that extra bit flattering.
Shop here: http://ow.ly/Ni4W30mfIxd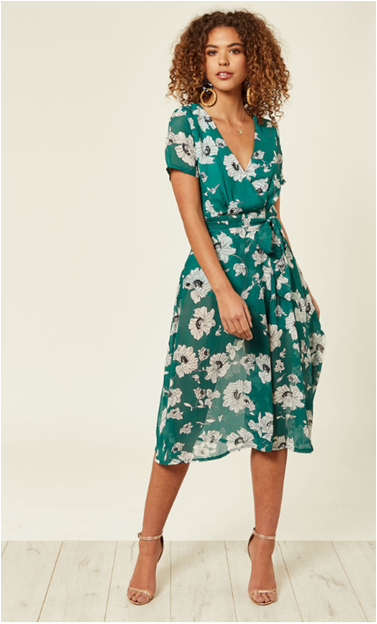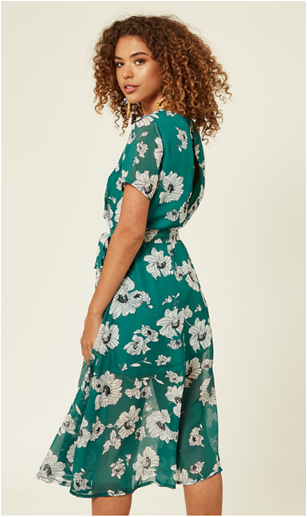 Something to pair with
Twilight Necklace
As this gorgeous floral dress has a low v-neck, an elegant necklace would look perfect.
Our Twilight necklace is inspired by the concept of eternity, a perfect motive for Christmas when you are surrounded by your loved ones. The soft wave effect alludes to the concept of time in all of its momentum. It's a perfect piece for day to night.
4. Santa Baby
A deep red silk dress feels equal parts sexy and festive for any party coming up this season.
Spanish designer Emilio de la Morena reworks the siren styles of the 1980's with this ruby-red off-the-shoulder Tamara dress. The stunning stretch silk hugs the lines of the body giving this dress such a flattering appearance. Perfect for any occasion at Christmas! Not only is it a totally gorgeous dress, but it's also perfect for the festive season with the well-known Santa suit colouring.
Shop here: http://ow.ly/CdYw30mgrwm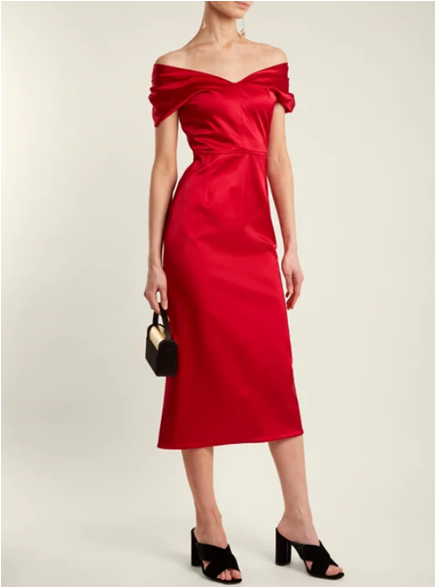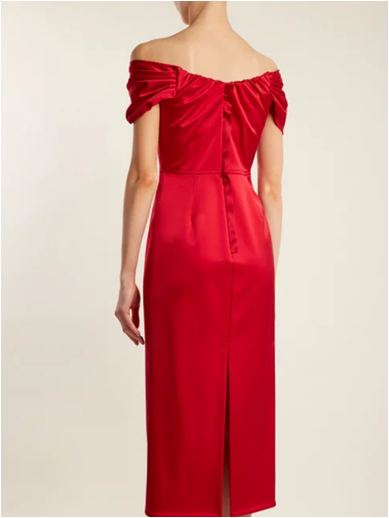 5. Velvet
Trade in your classic black velvet dress and take a look down the festive route by opting for a deep red or green coloured velvet dress.
This dress from Mark's and Spencer's is a stunning choice, perfect for when you want to dazzle. This bottle green velvet dress has everything you need to help you look your best during Christmas time. It's also a very versatile dress that can be worked throughout the year. Designed in a flattering swing style, it nips in at the waist before flaring out to a knee length skirt.
Shop here: http://ow.ly/Vyxc30mgrWk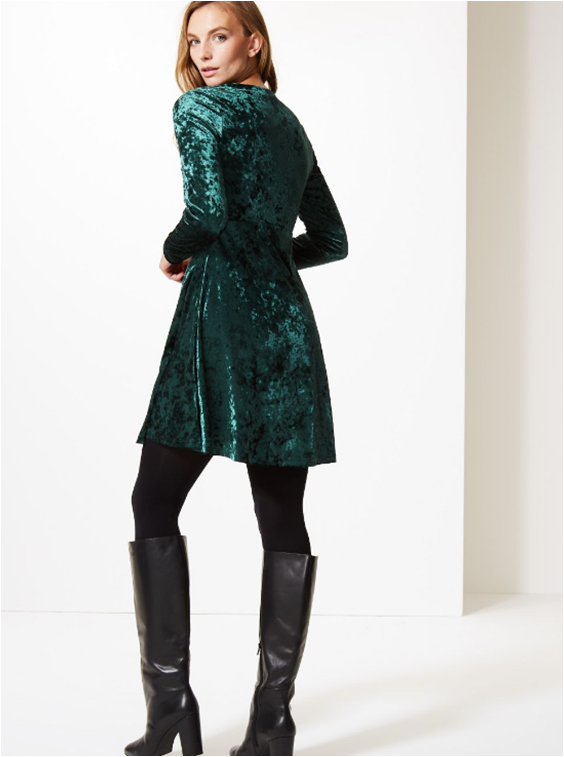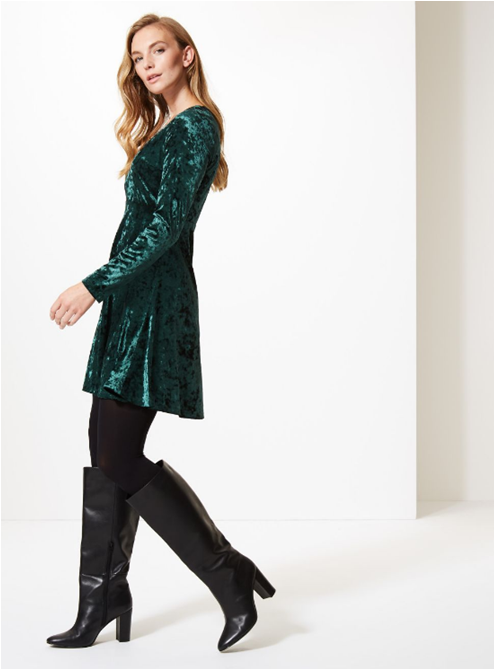 6. Lovin' Lace
You don't have to wear the bold red and green Christmas colours. Gold and silver are also extremely festive and are very elegant for an evening party. That's why this dress from ASOS is perfect. A classy black dress with gold floral lace covering the dress from top to bottom gives off a festive feel without it being too much.
This dress very simple, yet so beautiful. The lace being gold really allows the pretty floral detailing to show up against the black background meaning that you will be glowing through the night.
Shop here: http://ow.ly/mUUZ30mgsB1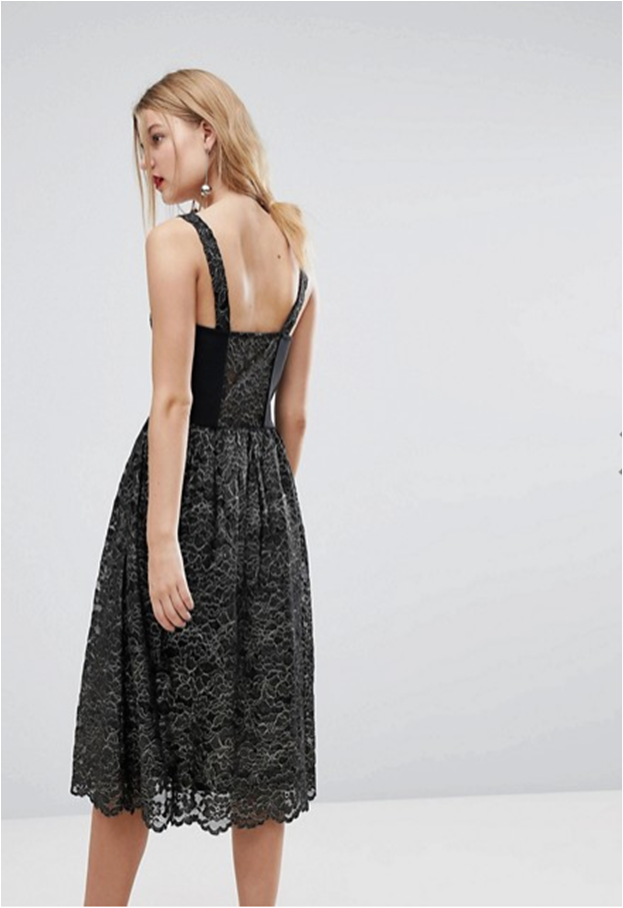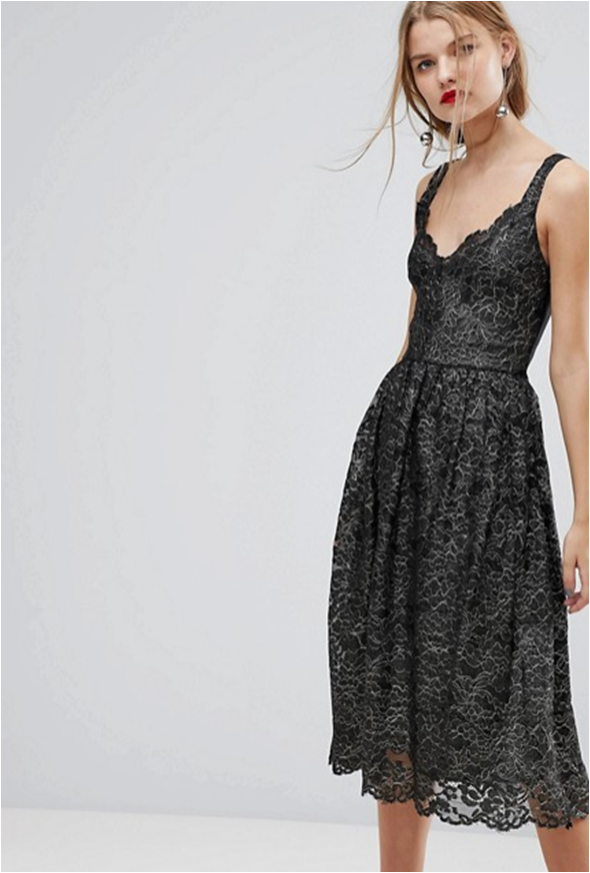 Something to pair with
Love Drop Necklace
This stunning lace dress has a low-cut v neck as well as the gold lace detailing, meaning this Love Drop necklace would be a perfect accessory to match. The Love Drop comes in two metals: rose gold and gold. The elegant necklace hangs slightly lower than a "typical necklace" perfect for those low cut dresses, filling that open space with a gorgeous accessory.
So the Christmas party outfit shopping doesn't seem quite as daunting now does it? There are endless possibilities of gorgeous dresses to wear during the festive season. We hope you found the perfect dress from our top 6 picks, but if not at least got an idea of the different styles and materials that can be worn. We're sure you'll look great!
*disclaimer: the pictures presented belong to the presented retails and the prices are at their discretion.