Mental Health Awareness: This year's theme of kindness
This has been a wonderful week to indulge in love, something that feels lost in a world of a pandemic. As we turn our attention towards mental health awareness this month, the theme of kindness seemingly couldn't have been more poignant. As we all try to make small adjustments in order to extend kindness to those around us and lift peoples mood, it is important to recognize how easily our emotions can be transferred onto others. If we aim to intertwine everyday kindness into our ethics, surely that means we need to begin with self-compassion?
Often self-appreciation is something that can make us uncomfortable, but feeding ourselves with little bits of love every day can slowly begin to overshadow those niggling negative thoughts. Taking a break from your regular daily routine to switch off and relax is the best way to give your racing thoughts a breather. A lovely way of doing this is by occupying yourself with something creative like drawing!
We had a 'virtual sit down' with Jemima Sara Hand, an independent artist and designer aiming to empower women (and men) 'freeing themselves of boundaries imposed by modern life through illustrations and designs.' Her work is uplifting and a source of free expression, aiming to inspire people to create and love themselves, especially for people suffering from mental illness.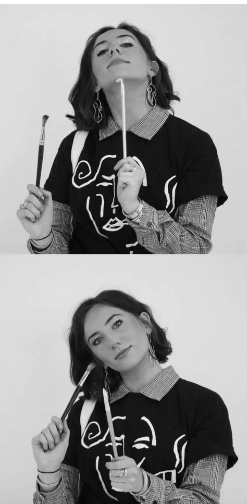 Jemima Sara Hand
In what ways does drawing aid your mental health?

Having started a creative business, JEMIMASARA, promoting freedom of expression and mental health, I fell in love with the art of drawing as it enabled me to express my experiences and recover from mental illness. There's heaps of evidence that we learn to understand ourselves better and make sense of our feelings through drawing. When you start drawing, you are not only visually expressing yourself but you are using both sides of your brain. This strengthens functionally and improves the connection between the left and right brains. As your brain becomes engaged and is filled with dopamine, we become motivated to share our experiences on the paper. Sometimes it can be hard to find words to express what we feel deep down. When we draw, we are able to reveal multiple emotions, thoughts, and concepts in a piece of art or scribble.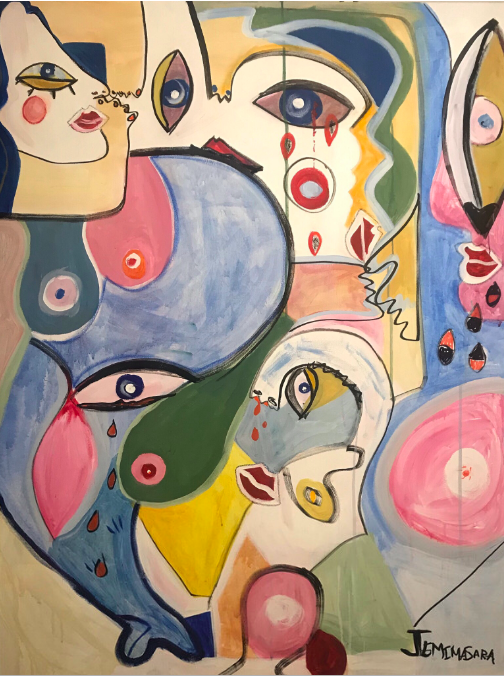 'Sunday Rest'
Acrylic & Ink on Canvas
JEMIMASARA
Your drawings are often based around the feminine body, does this aid in your own self-confidence?

Yes I think so. I would draw naked ladies with martinis and speech bubbles with funny, dark, naughty or positive affirmations. These became my voice. After a whilst these have now turned into a mixture of textures and forms.
What 3 words would you use to describe how you feel whilst drawing?

Relaxed, calm and balanced.

Drawing can be a place to clear your thoughts and relax as you combine self-expression with mindfulness which slows down your breathing and decreases heart rate, blood pressure and muscle tension.
Some people are apprehensive to draw due to lack of inspiration, do you plan what you draw, what tips do you have to spark inspiration?

I was to begin with too, and it's a process (like everything). This is not about being 'good' at art. It's about allowing yourself to scribble or doodle to relax. Here is my three-minute scribble tutorial to help you get drawing: Scribble Tutorial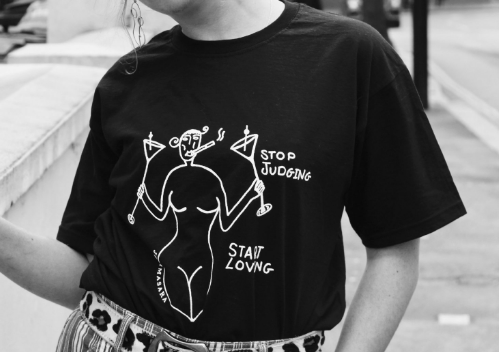 'Start Loving T-shirt'
Designed and illustrated by JEMIMASARA
What's your favourite type of music to draw to? Do you have any favourite feel-good playlists at the moment?

Haha I have so many and really depends on my mood. I love old french music (in an unpretentious way) as it gets me in the artist mood or some 80's disco bangers!
Do you do any other creative things aside from drawing that make you feel happy?

Yes so many things, I LOVE to dance (I am no good at it, but I love expressing myself) or signing (again no good ahha)
What are some of your favourite female artists at the moment?

WOW I have SO many, I love Eliza Hopewell, Florence Given, Venetia Berry and SO many more.
Thanks for reading and we hope you have a weekend filled with love.
Kashka Team x